Vesta Visits the Blue Angels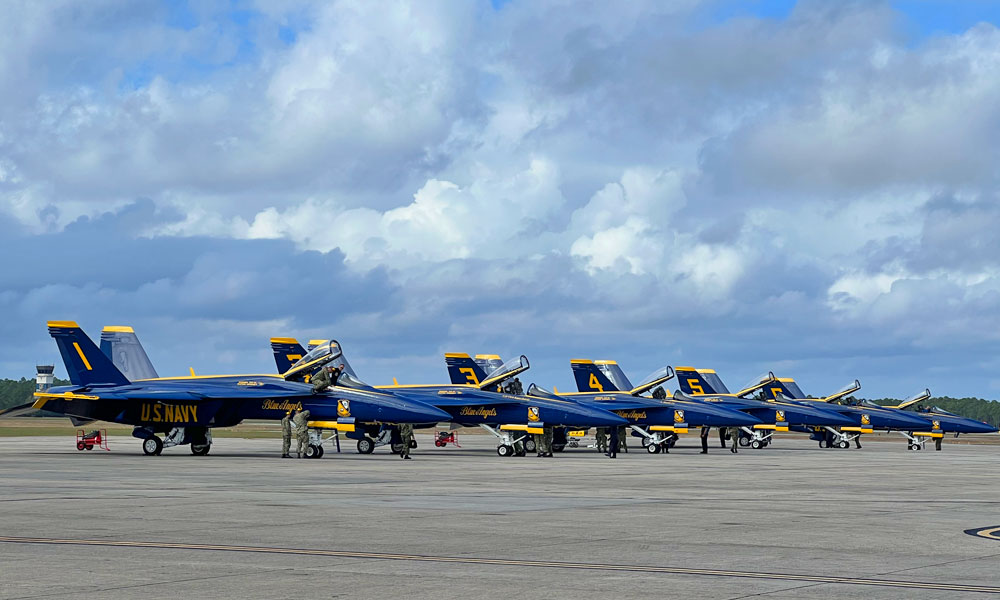 Haley Lippard produces high-quality videos for Vesta Construction Websites. She lives in Pensacola, Florida, with her husband, Sergeant Dylan Lippard. But their lives are far from typical. Vesta's president, Jolie, and her husband (and Vesta's vice president of operations), Tom, recently visited Haley and Dylan for an up-close look at Dylan's job – an airframes mechanic for the United States Navy's Blue Angels.
"Tom and I know first-hand what sacrifices military families make. We have a daughter who is a U.S. Army Captain and son-in-law who is a U.S. Army Special Forces Medic. We are compelled to assist military families when possible, which is why we are proud employers of military members and spouses," said Jolie. "This also means we have employees stationed around the world. So when Haley asked Tom and me to come down and tour the Blue Angels site, we jumped on her offer!"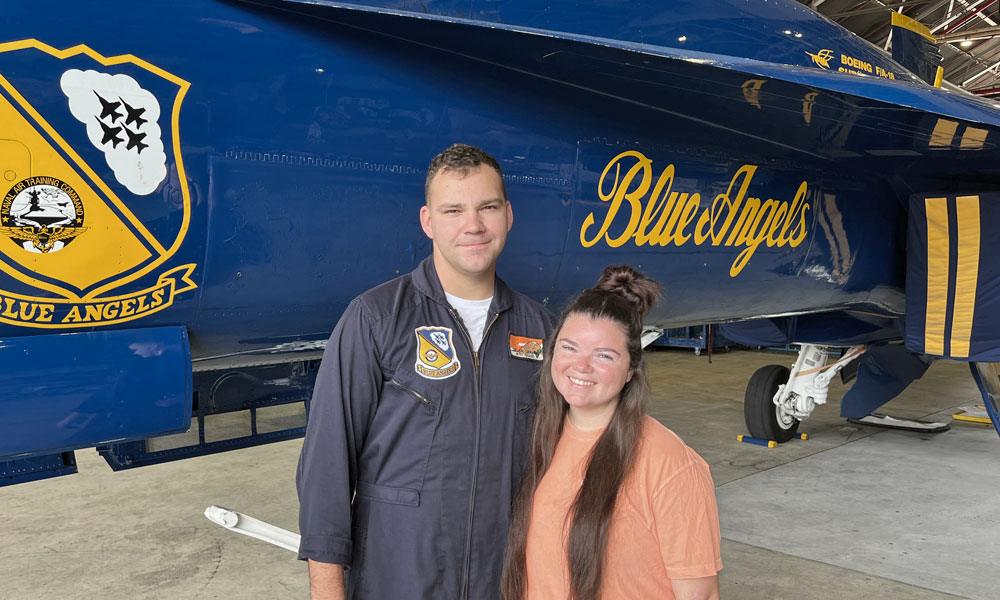 Haley Lippard with husband Sergeant Dylan Lippard
The Blue Angels – referred to as "The Blues" – were established in 1946 to showcase the teamwork and professionalism of the United States Navy and Marine Corps through flight demonstrations and community outreach. Team members are elite Navy and Marine Corps jet pilots and maintenance crews who inspire a culture of excellence and service through their work.
"Dylan has been in the United States Marine Corps for almost 10 years. He is really good at what he does," said Haley. "His skills were recognized a few years ago, and he was asked join The Blues. He decided to give it a try, and it has definitely been an exciting journey for both of us."
As a mechanic on the Airframes team, Dylan is responsible for the mechanical repair and maintenance of flight controls, hydraulic systems, and landing, arresting, and catapult gear.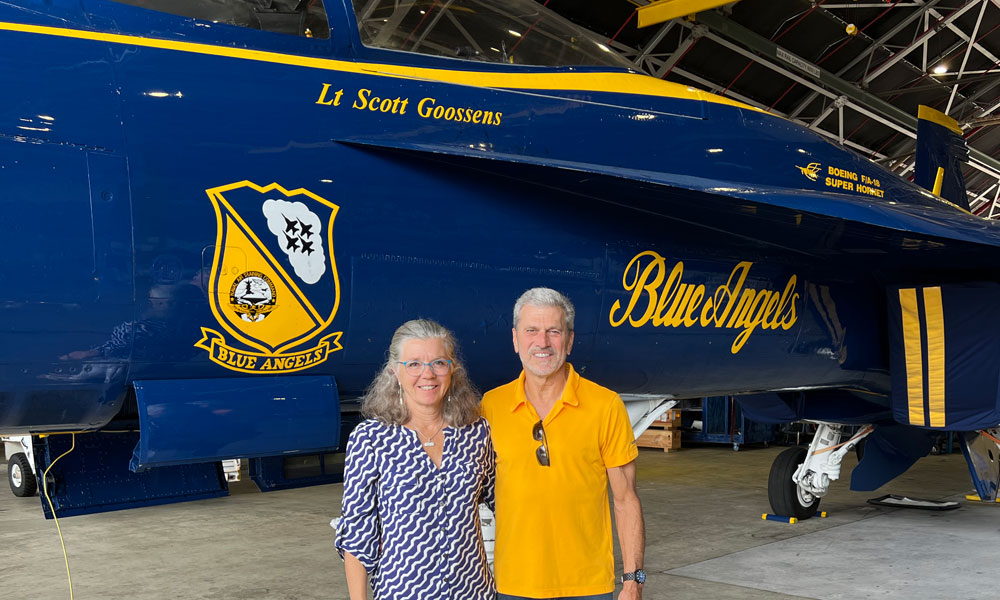 Vesta's Jolie and Tom McShane
Jolie is no stranger to the Blue Angels.
"My dad was a flight instructor who taught pilots how to fly using instruments. He was gifted an amazing photo of Blue Angel Rob Fields flying over the World Trade Centers in 2000 by Rob's father, who he taught to fly. This photo always stuck in my memory," said Jolie. "Getting to see these planes, pilots, and operations up close was an amazing experience for both Tom and I. We never imagined we could ever get that close."
"What was most surprising to me was how nobody walked anywhere – they ran," said Tom. "Every person there had an important role to play at such a high-performance level that running to get the job done is just part of their mental discipline."
While exciting, Dylan's job requires a lot of long hours and travel, especially during the show season which runs from March to November. These put added demands on Haley.
"After we got married, I moved down here to be with Dylan. He was gone a lot, so I kept busy with my own cookie-making business. Then I heard about work with Vesta. I have a degree in Communications and worked at a local news station for over 5 years. I have a true passion for videography and communications work," said Haley. "I am so grateful for this opportunity with Vesta to further my professional career while supporting the demands of Dylan's career."
"Families of service people – and I don't just mean military, but all first responders – are not recognized or appreciated enough for the sacrifices they make. They deserve every bit as much of the credit for the support they give their loved ones. We are enormously proud that we can give back to military families through employment with Vesta," said Tom.
Jolie joked, "Who knew employing military families would come with these kinds of benefits!"