Time for a Website Redesign?
If your website is more than three years old and hasn't recently been updated, it's time to brush off the cobwebs and revamp.
These past few years have yielded some fast and furious worldwide web developments – an explosion of social media, iPhones and iPads replacing laptop usage and Google forever changing its search engine optimization rules.
Below are five tips to incorporate into your website makeover.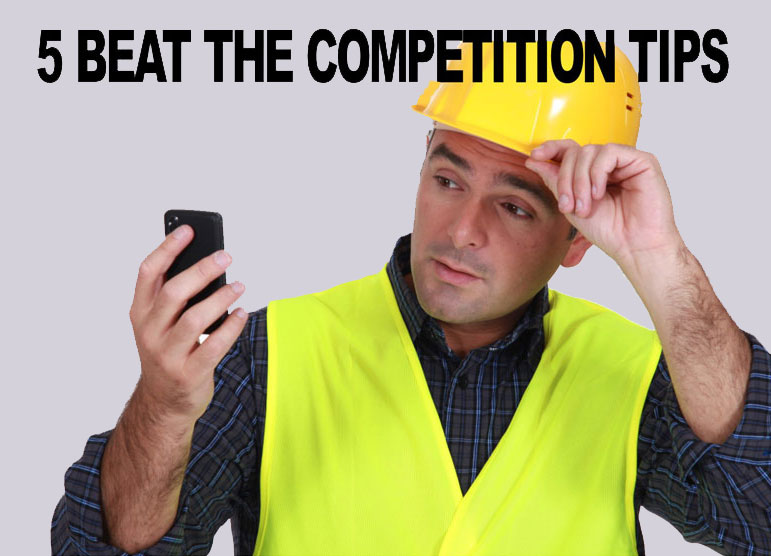 1) Mobile Ready – More often people are using iPhones and tablets instead of laptops to access the internet. Older websites that are not mobile friendly appear clunky and are difficult to navigate. For this reason it's a good idea to upgrade your website sooner than later. Perform this simple test to see what your website looks like on a handheld device. Access your website. In the right hand corner click on the three bullets and a menu will drop down. Decrease the Zoom to 25% and this is what your website will look like on a mobile device or phone. Is it up to today's standards?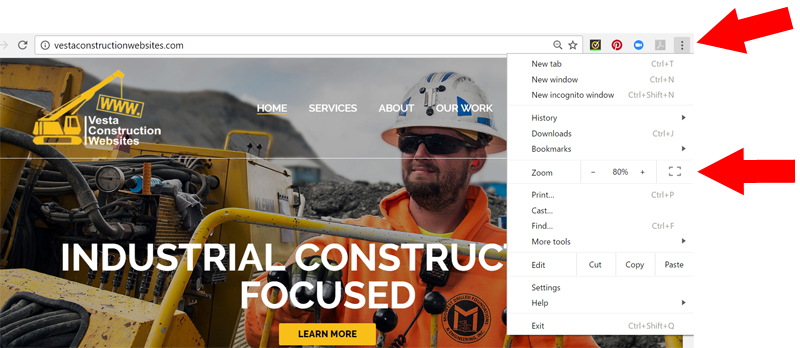 2) Social Media – Social media is here to stay. Just like having a website presence, it is expected that companies participate in LinkedIn, Twitter, Facebook and Youtube. These are all savvy tools that can inexpensively promote your products, services and community goodwill. It's convenient to hire a social media vendor with industry experience to post and monitor your feeds and ultimately increase your online exposure.
3)New Content – Freshening up the information and images on your website will draw new traffic. No need to stress about copy writing and content production, you can leave that to professionals. All copy can be changed on a moment's notice because unlike printed brochures, webpages are easily modified. Original R.B. Hinkle website pictured to the right, see their new and improved look: rbhinkle.com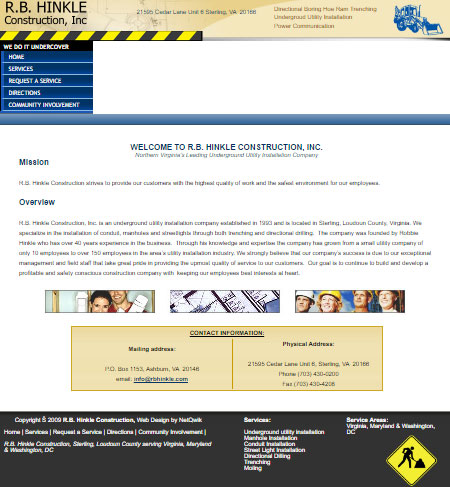 4)Keywording – Often overlooked, yet the most important aspect of a website redesign, key words are how customers find your great service offerings. This is missed more often than you would think, especially in the utility construction sector. Keywording through website redesign guarantees better Google SEO (Search Engine Optimization). See an example of how keywording this website moved Vesta's customer to #1 on Google.
5)Call to Action – The 'Contact Us' page is a great start, but add a "Request A Bid" or "Request A Quote" and/or a "Sales Contact" page and you'll gain an edge over your competition. The more opportunities a prospective customer has to reach out for information, the better for your company's sales.
It used to be that having a web presence was "good enough". But in today's world an outdated site can mean a quick death. Unless your website is constantly updated with news, blogs, pictures, graphics and social media links, Google will lose interest and drop your website ranking.
There is good news, though. Website updates have become less expensive and new software makes it much easier to maintain. Also, the redesign can be completed with relatively quick turnaround.
It's time to shake the dust off your old, obsolete website and transform it into a marketing marvel. Ask Vesta Construction Websites for a redesign quote.
Jolie McShane, President of Vesta Construction Websites specializes in websites for oil, gas and electric utility contractors. Utility construction centered social media, blogs, website content, video/photography and consultation services are provided by a knowledgeable team of utility construction oriented writers, graphic artist and social media experts.