Vesta Construction Websites 'Rocks it' at Event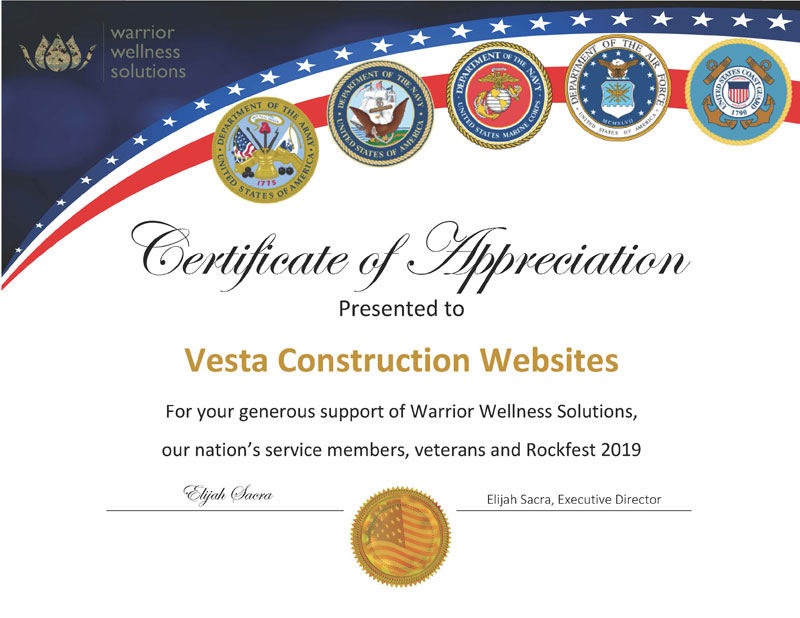 Elijah Sacra—Executive Director and founder of Warrior Wellness Solutions sent out Certificates of Appreciation to the many donors who contributed to Rockfest2019 in Maryland. The fundraiser brought together many enthusiastic supporters which mirrors Mr. Sacra's passion and commitment to '…serving the ones who serve.'
The event—the brain-child of Jolie & Tom McShane, owners of Vesta Construction Websites – received a special 'thank you' and a certificate as she and other Vesta team members donated time, resources, people and silent auction items.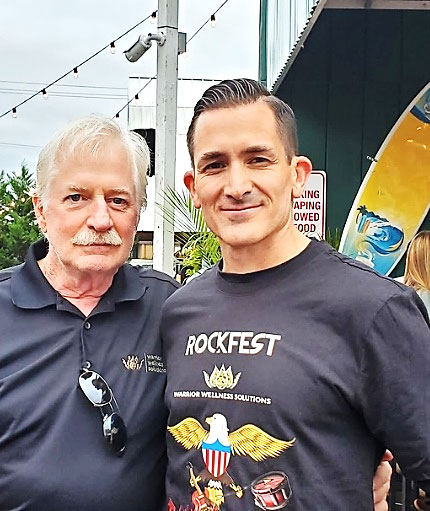 Elijah Sacra, Former Marine, on the right with guest.
Vesta donated a large screen TV to the silent auction which they had won from Job Creators Network; a definite three-way win. Vesta Graphic Artist, Pia Civiletti, donated her graphic design talents and Kim Schmitt, Sr. Vesta Writer, donated several articles. (Jolie and Pia were also on the Warrior Wellness Planning Committee). Vesta Creative Writer, Heather Shreve, donated a matted giclee print and two of her books "Once A Colonel" as well.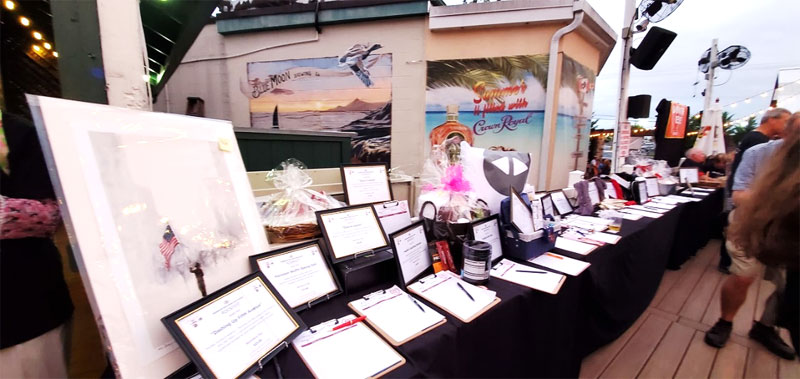 The event on September 14th was held at HighTopps Backstage Bar and Grill in Timonium, MD. Three rock bands graciously donated their time and skills, Terra Fermata, The Ruxtones and The Natty Brohs.  A wonderful evening was had by all, most importantly Rockfest2019 proved to be such a good time and great fundraising event, plans are already in place for next September 12th, 2020. The GOAL? Beat our fundraising efforts of 2019 and raise $30,000!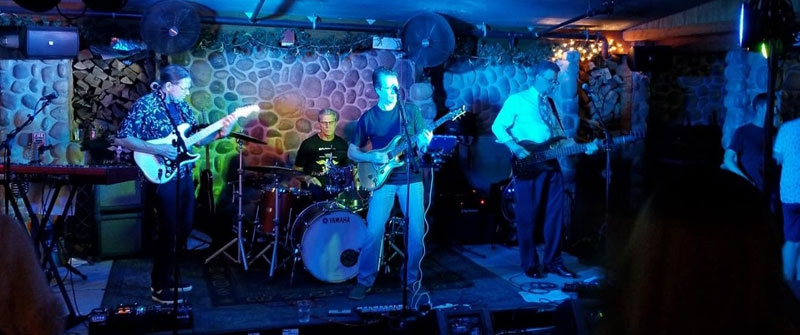 All in all, fun was had by everyone and much needed funding was raised for Warrior Wellness Solutions whose mission is supporting service members who are wounded, Ill and injured, their families and caregivers by way of Functional Medicine Health Coaching, Rehabilitative and Adaptive Exercise, Stress Management and nutritional coaching.
---
Warrior Wellness Solutions is a 501(c)3 :
"For Warriors and Families, By Warriors and Families."