Can Your Potential Customers Find You?
If not, it may be time for a website upgrade…
Run a test right now, input the bread and butter service your company offers. For example, if your company offers electric transmission line construction, does your company appear on the first page of Google search?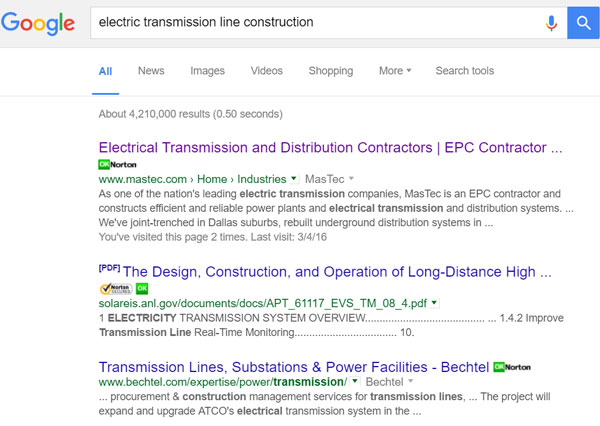 If not, it is time to find out why. Is your website stagnant? No website updates, no new news, no blogs or social media activity? Google ranks websites on activity level and keywords, when there is no activity then the farther down the search pages your website will appear. Your company may be the best in the industry, but a stagnant website will keep your Google ranking very low.
On the above sample, note the number of search results for "electric transmission line construction", this company is competing with over 4,210,000 similar search terms. Are these terms (also known as "key words") found throughout your website? Did your web designer add these "key words" to your page descriptions?
Updating a company's website can be a daunting task when there is no one in the company who has the marketing and communication skills, let alone the time to dedicate to the project. Tossing the responsibility to the web designer who does not know squat about your industry is a disaster about to happen. You have two choices, assign the project to the first volunteer in the company that raises their hand, or find a vendor that specializes in website design for your industry.
Vesta Construction Websites is that type of vendor, we work in the utility construction industry and have a solid understanding of construction and safety issues. Safety is key to future bids, we help you to put your best foot forward.
Many companies turn to a Social Media vendor to manage their Facebook, Twitter and LinkedIn activity, however equally important is making sure your website is up to date, active and amazing. When choosing a social media vendor, ask if they have industry experience. Will they offer blogs, look for news ….